Comfortable Toilet (MLIT compliant product)
Making construction sites more comfortable all across Japan
Hamanetsu has always sought to provide more comfortable and easy to use toilets.
Here we introduce the Hamanetsu Comfortable Toilet Series, including products that have cleared the application process for "Comfortable Toilet" as defined by MLIT.
Comfortable Toilet Standard Specifications
The Ministry of Land, Infrastructure, Transport and Tourism (MLIT) has labeled portable toilets that can be used comfortably by both men and women "Comfortable Toilet", as part of efforts to make construction sites into environments where both men and women can work with ease. The following specifications have been set for installation at construction sites. (1 and 2 are mandatory)
1. Standard specifications required for Comfortable Toilet
1Western toilet seat
2Flush system (simple flush)
3Flapper function
4Double lock
5Lighting fixtures
6Hook (weight capacity: 5kg)
2. Accessories for use as a Comfortable Toilet
7Clear indication of gender
8Screen on entrance
9Sanitary box
10Sink with mirror
11Toilet seat disinfectant sheets
3. Recommended specifications, accessories
12Interior dimensions of at least 900 × 900mm
13Toilet sound blocker
14Fitting board
15Multiple flapper features
16Equipment for adjusting interior temperature, such as windows
17Storage space
*For detailed specifications, see materials published by MLIT at the bottom of the page.
About the Comfortable Toilet Certification Mark
This mark is issued by Incorporated NPO, Japan Toilet Labo., with the dual purposes of promoting the spread of Comfortable Toilet and further improving the quality of Comfortable Toilet.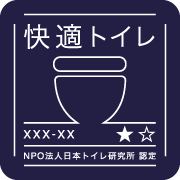 Comfortable Toilet ★ (1 star)
Come standard with standard specifications for Comfortable Toilet 1 to 7 set forth by the MLIT.
Be compatible with separate optional specifications 8 to 11, of which 8 and 10 may be provided on site.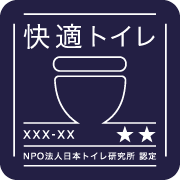 Comfortable Toilet ★★ (2 stars)
In addition to the conditions shown above, at least 3 of specifications from 12 to 17, including 12, must come standard.
* "1. Standard specifications required of Comfortable Toilet" and "2. Accessories for use as a Comfortable Toilet" as defined by MLIT are required conditions when installing Comfortable Toilet on site. Therefore, even toilets which have acquired the certification mark must be equipped with specifications 8 to 11 when installed on site.
Comfortable Toilet easy to use for anyone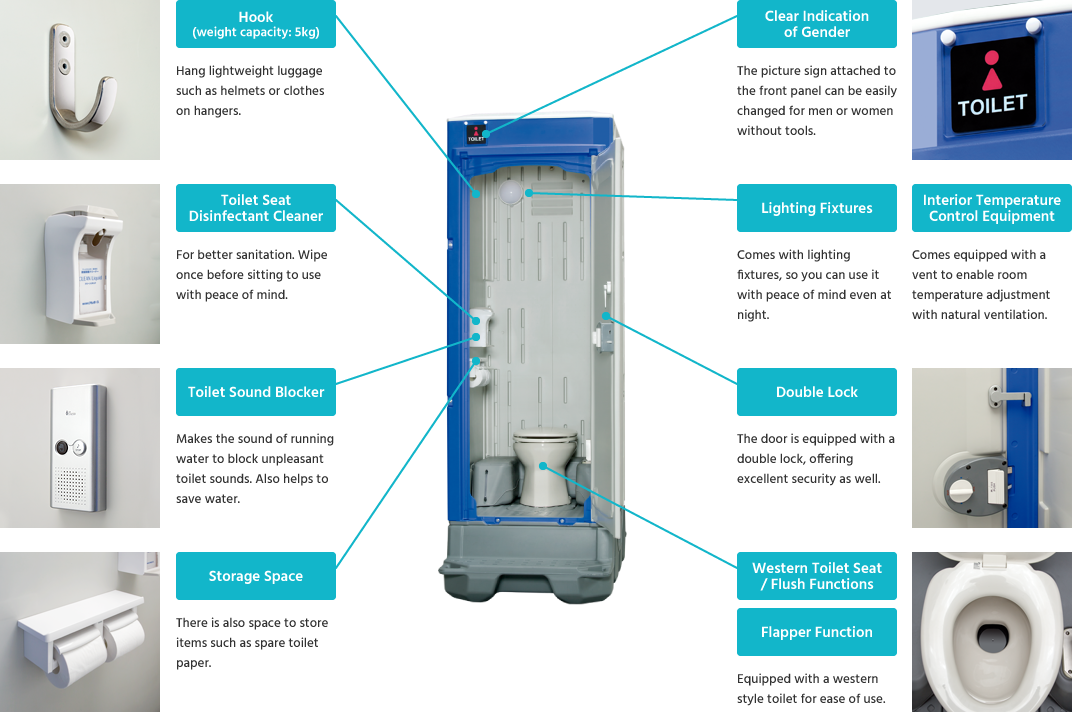 Hamanetsu Product Comfortable Toilet Compatibility Chart
◎
Standard equipment
◯
Options
Product
Standard
Comfortable Toilet Certification Mark
1. Standard specifications required for Comfortable Toilet
2. Accessories for use as a Comfortable Toilet
3. Recommended specifications, accessories
1
2
3
4
5
6
7
8
9
10
11
12
13
14
15
16
17
TU-iX Series
TU-CTiXF4
★
◎
◎
◎
◎
◎
◎
◎
◯
◯
◯
◎
―
◎
◯
―
◎
◎
TU-CTiX
★
Vehicle Mounted Toilet
TU-CTLF4
★★
◎
◎
◎
◎
◎
◎
◎
◯
◯
◎
◎
◎
◎
◯
―
◎
◎
RooK Toilet
TU-CTRKFU
★★
◎
◎
◎
◎
◎
◎
◎
◯
◯
◎
◎
◎
◎
◯
―
◎
◎
EPOCH Toilet
TU-CTSH03
★★
◎
◎
◎
◎
◎
◎
◎
◯
◯
◎
◎
◎
◎
◯
―
◎
◎
NEX Toilet Light 2
TU-CTLT2F4
★★
◎
◎
◎
◎
◎
◎
◎
◯
◯
◎
◎
◎
◎
◯
―
◎
◎
NEX Toilet Douce
TU-CTDF4
★★
◎
◎
◎
◎
◎
◎
◎
◯
◯
◎
◎
◎
◎
◎
―
◎
◎
TU-CTD
★★